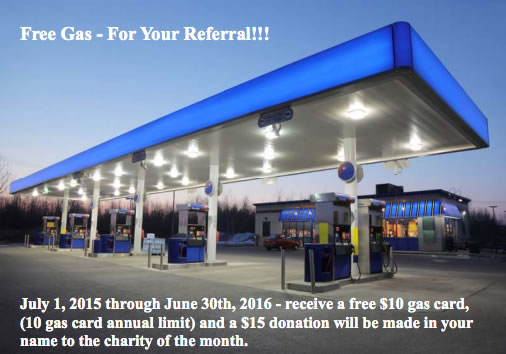 We know that your referral is the highest compliment you can give us!
To show our appreciation, we'll give something back to you and our community!
July 1, 2015 through June 30th, 2016 - receive a free $10 gas card, (10 gas card annual limit) and a $15 donation will be made in your name to the charity of the month.
Simply refer someone to Andre-Romberg Insurance Agency – A Division of Alliant Insurance Services, Inc.. Don't worry, we'll be sure to ask them how they heard about us. (No purchase necessary and there is NO limit to the number of gas cards you can receive.)
Good referrals might include: family, friends, business colleagues, entrepreneurs, real estate investors, landlords, non-profit organizations, your employer or employees... we even have an elite program for dentists!
Required fields are marked with: *